More Than A Roof Foundation Participates in Giving Tuesday
December 2, 2013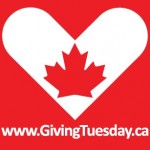 Everyone is familiar with Black Friday and Cyber Monday, two days out of each year that benefit the economy, as shoppers across North America hurry to get great deals at malls and online. So how about a day that high lights giving back to our communities? That day has arrived!
Giving Tuesday is a new Canadian movement that celebrates giving and volunteering in Canada. It takes place tomorrow on Tuesday, December 3, 2013 and is being hailed as the 'opening day of the giving season' – a day where Canadian charities, companies and individuals can unite to focus on commitments, rally for favourite causes and think about others. Giving Tuesday is aimed at bringing communities together and creating momentum for giving at the start of the annual holiday season.
More Than A Roof Foundation is proud to be a partner in this revolutionary event that celebrates philanthropy and volunteerism! Aligned with our own mission of making a difference in our communities, Giving Tuesday empowers non-profits, corporations and citizens by dedicating a specific day out of the year to make a difference. And at More Than A Roof, we work hard every day to create positive change for people in our communities.
Fighting Poverty and Homelessness in Canada
We recently partnered with Soulkitchen, a Vancouver based ministry, with the aim to feed the poor and homeless in our communities. We also continue to provide financial literacy and asset building opportunities to marginalized people in British Columbia through our Next Step Program. Additional funding for these programs allows us to continue the important work of improving the lives of individuals in this region so that people can break through the barriers of poverty and homelessness. By supporting More Than A Roof Foundation you are helping us to achieve our goals of fighting poverty and homelessness for thousands of men, women, youth and children in British Columbia and across Canada.
Last year, over 2,500 partners came together for the inaugural Giving Tuesday event in the U.S. The movement received nation-wide attention, including recognition and endorsements from The White House, Bill Gates and the Clinton Foundation. This year, Giving Tuesday encourages all communities and citizens within North America to come together and celebrate those non-profit organizations that are close to their heart. Whether you are a charity, corporation or individual: everyone is welcome to participate! For more information on how you can get involved, visit www.givingtuesday.ca or follow the hashtag #GivingTuesdayCa on Twitter.